Tara A. Spears
It feels like a hug when you slip on a sensuous Kay Klose garment; the dreamy tones of organic colors permeate the hand-made soft fabric. Kay's new 2017 line showcases one-of-a-kind feminine capes, skirts, tops, hats and gloves. If you are fashion forward, this wearable art is perfect for you! Kay has outdone herself with capturing the nuances of black and white: she has misty gray tones contrasting with thundercloud black in chic, earthy garments, as well as eco prints in wonderful vibrant colors that are party ready!
Women to Women Fashion Show is excited to have this innovative designer sharing her work on Tuesday. The guests are certain to rave about the new line for days to come..
One characteristic of the Kay Klose designs is the special process involved in making the clothes. Kay said, "I make wearable art working with a variety of techniques and natural fibers. One of these techniques is 'Nuno Felting. Nuno is the Japanese word for cloth. My Nuno garments are sculpted in a laborious processes that requires days to create each fabric. The entire fabric is sculpted, not sewn."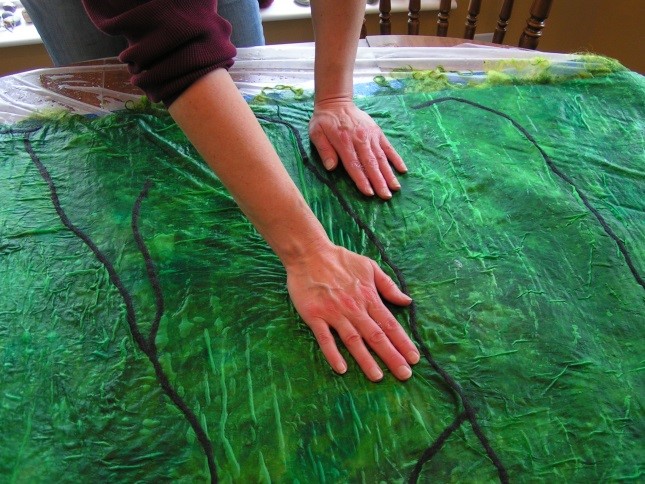 The Nuno Felting process involves laying super fine Merino wool fiber onto silk or another natural fabric and using olive oil soap, water and friction to create a new cloth. By rolling rubbing and kneading the layers like bread, I force the wool fibers thru the fine weave of a natural fiber fabric to merge the two. The sum of the process of creating nuno fabric is working various layers of loose fiber into an open weave fabric base.
Nuno felt is extremely versatile and can be made in many weights to accommodate different uses. A thin layer of wool worked thru silk creates wonderful movement and drape for a shawl or dress, while four layers of wool fiber can be used to create a hat that will hold its shape. "I have created a variety of garments and accessories for the show that demonstrate the versatility of nuno felting, said Kay.
Since 2013, Kay has pursued eco printing besides her nuno felting. She believes that fashion should be "Natural, elegant, textural, unique and durable." Her work has been featured in several galleries and museums ranging from Alaska State Museum to the Corcoran Gallery of Art in Washington, D.C. Kay also is a member of the Pacific Artist Co-op.
Eco printing is another process that Kay explores. Some in the textile industry claim that this is one of the first methods used to liven up garments as instances are cited from ancient times. This process of making fabric involves the artist searching for hidden colors, forms and textures by using natural objects to dye fabric. Eco dyeing and eco printing are essentially direct contact printing methods, drawing out pigments from plants to make interesting and often surprising marks on cellulose (cotton, linen) and protein (silk, wool) fibers. This method does not necessarily dye yardage or yarns a uniform color. The final result is stunning!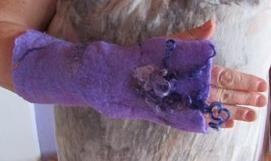 Kay explains, "As a gardener and gatherer I became interested in natural dyes. I Eco print on my felted garment as well as garments I'd like to modify. I lay leaves or flowers directly on the fabric, roll it up very tight and tie it with string them steam or boil it in a variety of ways for a desired effect. Last year I was commissioned to make a white nuno wedding dress. After the wedding I used the bride's bouquet to eco-print it!" That is certainly a priceless keepsake.
"While I have made a mix of garments for this year's show and particularly focused on shawls," said Kay. The shawl is a versatile garment that can be worn in a variety of ways and that makes any size of woman elegant.
You must see her garments firsthand to truly appreciate the depth and texture of each wearable art. Don't miss her presentation at the Women to Women Fashion Show. For more information visit her website www.kaykloseart.com or email her directly: kaycloseoink@gmail.com or telephone 907 952 0659 for a consultation